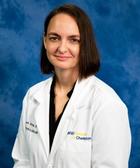 Rayan Ihle, MD
Dr. Rayan Ihle is the CAMC Pulmonary & Critical Care Medicine Fellowship Program Director and is an Associate Professor of WVU Charleston Division in Pulmonary and Critical Care. She holds degrees in Biological Sciences, Chemistry and Psychology from Ohio University. She received her medical degree from The Ohio State University and pursued Internal Medicine/Pediatrics residency at Indiana University where she served as chief resident. She joined WVU faculty after completing fellowship in Pulmonary Critical Care at the University of Kentucky in 2012.
Within Charleston Area Medical Center, Dr. Ihle is the Chair and Medical Director of Adult Pulmonary Critical Care Services, the Medical Director of CAMC's Lung Cancer Screening Program, ECMO Program and CAMC Pulmonary Clinic. She is involved in multiple leadership positions within the hospital and the residency program including the CAMC Institutional Review Board, Clinical Integration Committee, Nutrition Committee, Sepsis Committee, Covid-19 Preparedness Task Force, and Resident Competency Committees among others. At the state level she serves on the West Virginia State Board of Respiratory Care, the WV Hospital Association Crisis Standards of Care Committee, the WV DHHR Remdesivir Protocol and Allocation Committee, and is the founder of WV Thoracic Society State Chapter of ATS.

Dr. Ihle has multiple research projects in the area of Covid-19, Lung Cancer, sepsis with pneumonia, and mechanical ventilation supported by 2 grants. Her work has been presented and published nationally, at the state level and locally. She serves as a reviewer for several journals including Lung, Academic Medicine, and MedEdPortal Publications. Her clinical interests include resident/fellow education, lung cancer, interventional pulmonology, pulmonary hypertension, critical care, and ECMO.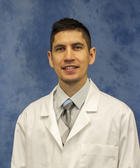 Kevin Smith, MD
Assistant Program Director
Dr. Smith is the CAMC Pulmonary Critical Care Fellowship Assistant Program Director and is an Assistant Professor of WVU Charleston Division in Pulmonary and Critical Care.  He holds a degree in Molecular and Integrative Physiology from the University of Illinois at Urbana-Champaign.  Dr. Smith completed his Medical Doctorate, Internal Medicine residency, and fellowship in Pulmonary & Critical Care at the University of Kentucky. 

Dr. Smith served as faculty at the University of Kentucky for 6 years before joining CAMC / WVU Charleston Division in 2020.  During his time at the University of Kentucky, Dr. Smith participated in medical education as a co-course director for several College of Medicine courses, served as Simulation Lab Director, and develop educational workshops and websites centered various critical care and pulmonary topics such as mechanical ventilation, difficult airway management, COVID-19, ACLS, and cardiopulmonary stress testing.

Dr. Smith's clinical interests revolve around integrating modern technology into clinical practice to help enhance traditional bedside education and patient care.  Outside of work, he is an avid soccer fan/player, enjoys building computers, plays electric guitar, and watching films (particularly horror).  He spends most of his spare time outside with his wife and three young sons in the outdoor areas around Charleston.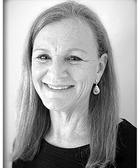 Cindy Hanna, MBA
Cindy graduated from Marshall University where she earned a Master in Business Administration.  In June 2006, Cindy joined CAMC as a Research Coordinator for a funded congestive heart failure study.  In September of 2007, she became a Development Officer for the CAMC Foundation and helped with the fundraising for the CAMC Cancer Center.  In 2010, Cindy moved back into the research field to become the CAMC Internal Medicine/Geriatrics Research Coordinator helping students, residents, and faculty develop research protocols and IRB submissions.  Through this process she learned more about research grant funding and transitioned to Research and Grants Administration as the Grants Development Specialist.  She received her Grant Professional Certified (GPC) credentials through the Grant Professionals Certification Institute.  In August 2020, Cindy moved to CAMC Graduate Medical Education as the Program Coordinator for Pulmonary Critical Care.
During her time away from the office, Cindy enjoys being outside walking, bike riding, boating, kayaking, fishing, playing pickle ball, and much more.