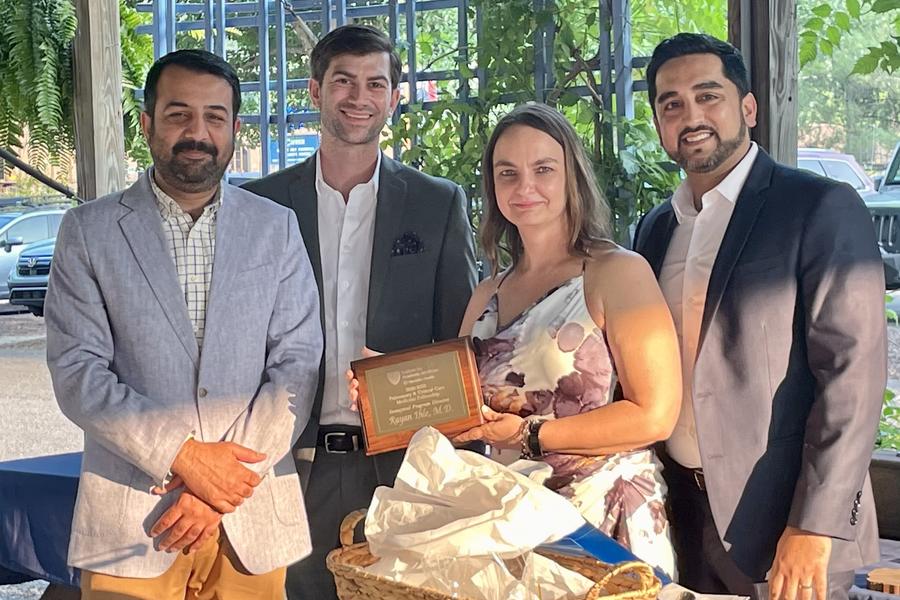 The CAMC Institute for Academic Medicine celebrated its inaugural class of Pulmonary and Critical Care Medicine Fellowship graduates on June 17. The ceremony recognized the accomplishments of fellows Muhammad Iqbal, Syed Mahmood and Mark Radow who were the first to complete their training at CAMC in this new, three-year program.
Mahmood, who trained in Florida, the Cayman Islands and New York, came to CAMC for his residency in 2016.
"After completing my residency training in internal medicine, I was provided with a once-in-a-lifetime opportunity to help build a new fellowship program under the vision of Dr. Rayan Ihle," Mahmood said. "I have been very fortunate to not only graduate in CAMC's inaugural fellows class, but I also served as the program's first chief fellow."
The Pulmonary and Critical Care Medicine Fellowship program was established in 2020 to train clinicians with the knowledge and skills to educate and provide service in an area of medicine that is in high demand.
Rayan Ihle, MD, Division Chief of Pulmonary Critical Care Medicine, helped create this fellowship program from the vision and support of CAMC and fellow faculty members.
"This is a milestone not only for our fellows, but also for our program," Ihle said. "I have been fortunate as the program director of this amazing class whom I've watched grow from interns in internal medicine to pulmonary critical care physicians in their own right. What we do here as educators is not an easily accomplished feat. But when you have interns, residents and now fellows that are as eager, caring and as invested as ours, there's really no better job in the world."
Since its inception, this fellowship program has grown to include six more fellows and a team of pulmonary critical care physicians and faculty members who share their experience and expertise with fellows in Charleston.
Kevin Smith, MD, Fellowship Program Director, is excited about the future of the program and the desire of graduates to stay and practice where they've trained.
"We are thrilled to have so many choose to continue to practice here at CAMC," Smith said. "That is one of the best parts of being part of the fellowship program – getting to build an even stronger foundation for future classes of trainees that will really pay dividends for health care in Charleston and for future generations in West Virginia."
"I truly believe that our academic faculty are some of the top clinical instructors in the country, always teaching the most up-to-date, evidence-based medicine," Mahmood said. "If you want to become an expert clinician who provides patient-centered care with all the resources of a growing tertiary academic hospital with a small-town vibe, CAMC is the place for you to train for residency and fellowship."
CAMC celebrated 56 board eligible residents and fellows graduating from CAMC and CAMC Greenbrier Valley Medical Center programs in June. About 39% of those graduates will remain in West Virginia to practice or to continue training with half of those joining CAMC/Vandalia Health locations. On July 1, 90 interns, residents and fellows started their training in programs at CAMC including CAMC Greenbrier Valley Medical Center. 
For more information about residency and fellowship programs offered at the CAMC Institute for Academic Medicine, visit camcmedicine.edu/residents-fellows.