Comprehensive Clinical Training
Our Gastroenterology and Hepatology Fellowship program's mission is to create compassionate, confident and capable gastroenterologists who are fully prepared to enter independent clinical and/or academic practice. 
Aligned with our mission of "striving to provide the best care to every patient every day," our graduates will be trained to provide extraordinary care to diverse patient populations and optimize the health and well-being of our communities.
Our goal is to prepare the next generation of gastroenterologists who possess a range of attributes, including a broad knowledge base, the ability to generate a relevant differential diagnosis based on an accurate history and physical examination, an understanding of the indications and contraindications of diagnostic and therapeutic procedures, skills at performing these procedures, the ability to think critically, and an appreciation of the humanistic and ethical aspects of medicine. 
 
Highlights of the program include: 
Faculty of 10 physicians and 6 APPs dedicated to the treatment of all aspects of the gastroenterology and hepatology. 

Dedicated research coordinator to assist with scholarly work during fellowship.

CAMC Life Support Training and Center for Innovation and Simulation Learning, providing 7,500 square feet of high-fidelity simulation including the upper GI endoscopy, colonoscopy and ERCP simulation. 

Didactics including multidisciplinary GI & Liver Tumor Board, CPC Radiology Conference, Patient Safety and Quality Improvement, Journal Club and hybrid classroom lectures. 
With these resources, we strive to maintain a learning environment that fosters transformational learning through a comprehensive education program emphasizing skills, independent self-motivated learning, patient centered research, knowledge and humanism. 
 
Training Environment
Charleston Area Medical Center (CAMC) is a 956-bed hospital located in Charleston, West Virginia and is the largest distinct health care provider in the state of West Virginia. With a primary and secondary service area of more than 22 counties servicing more than 554,000 people, CAMC is the major tertiary care and referral center southern West Virginia. 
CAMC recorded more than 33,000 inpatient visits, 107,738 emergency medicine visits, and 682,000 outpatient visits in 2021. 
From an inpatient services perspective, gastroenterology and hepatology consultive services alone are provided to approximately 7,000 inpatients annually with 3,500 Upper GI endoscopy, 3,500 colonoscopy, 700 endoscopic ultrasound, and endoscopic retrograde pancreatography (ERCP), 200 Paracentesis, and 200 Fibroscans. 

The institute boasts a Gastroenterology and Hepatology Clinic providing more than 6,500 annual discharge and 2,400 new patient clinic visits to provide outpatient care in all gastrointestinal, liver, pancreas and nutrition disorders.

CAMC is one of two Level I trauma centers in West Virginia accredited by the American College of Surgeons. 

The region's only kidney transplant center. 

Level III Neonatal Intensive Care Unit; Level I Pediatric Intensive Care Unit; CARF accredited medical rehabilitation center.

Primary Stroke Center with Comprehensive Medical Rehabilitation Unit.

Free-standing Cancer Center.

The CAMC Heart and Vascular Center performs over 13,000 cardiac catheterizations and 730 open heart by-pass procedures annually and supports an active cardiothoracic surgery program. 

CAMC Clinical Trials Center.

Institute of Academic Medicine with more than 180 interns, residents and fellows. 
CAMC is accredited by the Accreditation Council for Graduate Medical Education (ACGME) as a sponsoring institution of 18 ACGME accredited residency and fellowship programs. The CAMC Gastroenterology and Hepatology Fellowship Program is sponsored by CAMC in collaboration with West Virginia University Charleston Division, an affiliate educational partner. 
 
Salary and Benefits
CAMC offers a comprehensive salary and benefit package for residents and fellows.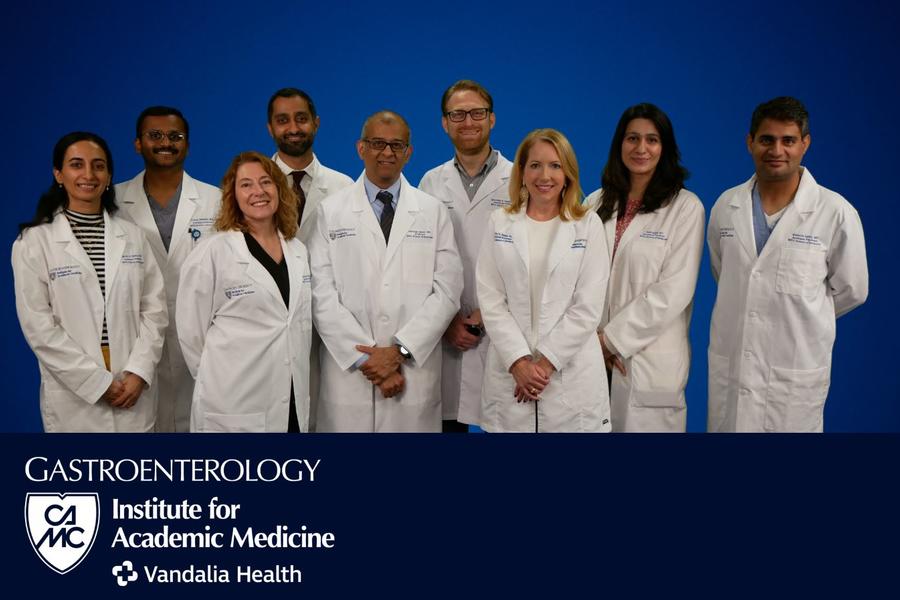 Our Faculty
Pictured Left to Right: Dr. Harleen Chela, Dr. Vishnu Naravadi, Dr. Cheryl Cox, Dr. Muhammad Bashir, Dr. Nadeem Anwar, Dr. Ebubekir Daglilar, Dr. Emily Battle, Dr. Sara Iqbal and Dr. Kamran Zahid
Explore Charleston and West Virginia