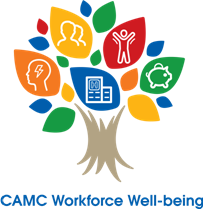 In recent years, the ACGME's Physician Well-Being initiative has expanded its commitment to the well-being of physicians.  In 2017, the ACGME revised the Common Program Requirements for all programs, regardless of specialty, to address well-being more directly and comprehensively. The requirements emphasize that psychological, emotional and physical well-being are critical in the development of a competent, caring and resilient physician.   
CAMC has worked to develop a program that defines five areas as key determinants in a person's overall state of well-being.   
Emotional Well-Being: understanding and managing emotions and related behaviors, coping effectively with stress and burnout; adapting to change and building resilience. 
Social Well-Being: sense of belonging, social inclusion and community; feeling connected in society and nature by acknowledging and emphasizing interdependence and relationships. 
Professional Well-Being: occupational satisfaction and enrichment by contributing unique gifts, skills and talents to tasks that are personally meaningful and rewarding;  improving and sustaining work processes that contribute to producing "joy in work." 
Physical Well-Being: adopting healthful habits while avoiding destructive habits; maintaining a healthy quality of life that promotes accomplishing daily activities without undue fatigue or physical stress. 
Financial Well-Being: developing prudent and responsible financial habits, effectively using tools to manage financial resources, and committing to monetary goals for future needs. 
CAMC provides resources for our team members in each of these areas, along with program-specific resources that exist within different departments or programs. View the information below, or contact the Graduate Medical Education office for information about program-specific resources.