CAMC is accredited by the Accreditation Council for Graduate Medical Education (ACGME) as a sponsoring institution of graduate medical education residency and fellowship programs. The CAMC Vascular Surgery residency and fellowship programs are sponsored by CAMC in collaboration with West Virginia University-Charleston Division, an affiliate educational partner. The goal of these programs is to develop our trainees into expert clinicians, who are both clinically and academically proficient in all aspects of the diagnosis, management, and treatment of vascular disease. 
Both the two-year fellowship and 0-5 year residency training experiences offer an outstanding opportunity for graduating general surgery residents and medical students to learn the art of vascular and endovascular surgery.
Comprehensive Clinical Training
Under the instruction of our enthusiastic and committed faculty, our vascular trainees will ultimately display competent surgical judgment and operative skills that will prepare them for independent practice in vascular surgery. 
Fellows will primarily rotate through three services, allowing for thorough and progressive training in acute care, open vascular and endovascular intervention. They will also spend time working in our accredited vascular laboratory.   
Residents in the 0-5 integrated program will spend 18 months of their first two years (PGY1-PGY2) within the general surgery department in monthly rotations that will supplement the vascular trainees' experience and build the necessary foundations for surgery. These rotations include cardiothoracic surgery, plastic surgery, trauma, general elective surgery, and the general surgery acute care service, just to name a few. During the last three years of their training (PGY3-PGY5), residents will rotate solely through the services within the vascular department. 
Trainees will spend their time with the full-time vascular surgeons while learning to master open vascular surgical techniques and provide exemplary patient care. The open vascular rotations experience an extremely high volume annually: 
200+ Carotid Endarterectomies 
20+ Supra-aortic Trunk Reconstructions (extra-anatomic or intrathoracic repair) 
20+ Complex Aortic Interventions (including suprarenal and thoracoabdominal aortic aneurysm) 
150-200 Infra-inguinal Reconstructions 
200+ Vascular Access Operations 
Venous Ablation (Radiofrequency or Laser) 
Complex Vascular Trauma 
Trainees will spend time within four vascular-dedicated catheterization labs housed in our notorious Circulatory Dynamics Laboratory (CDL). This rotation will afford trainees the opportunity to participate in a wide variety and high volume of cases annually: 
50 Carotid Stents 
200 Renal/Visceral Stents 
100+ EVARs 
25+ TEVARs 
500+ Peripheral Interventions 
100 Complex Venous Interventions 
20 Branched/Fenestrated Grafts 
Vascular Trauma 
Visceral Embolizations (GI Bleeds, Traumatic hemorrhage) 
Cerebral Imaging 
Catheter-directed therapy for pulmonary embolism 
Comprehensive Dialysis Interventions 
Trans-aortic Valve Replacement (TAVR)
Our residents and fellows will spend time in our Vascular Lab under the instruction of the Medical Director, Ali F. AbuRahma, MD. Here they will gain exposure to various noninvasive vascular techniques including duplex ultrasound, physiological testing, segmental Doppler pressure with ankle/brachial indices, pulse volume tracings, and various plethysmography techniques. Our vascular lab is an IAC accredited lab, employs 15 vascular lab technicians (RVT), and has a volume of more than 2,000 studies per month, making it the busiest lab in the Mid-Atlantic region.  In addition to technical instruction, trainees will receive instruction in vascular image interpretation from our RPVI certified vascular surgeons. Prior to completion of their final year, fellows are expected to successfully complete the RPVI credentialing.
In keeping with the program's commitment to excellent patient care and medical knowledge, as well as the continuity of care, vascular fellows and residents will spend at least one half day per week in the outpatient setting. Here they will attain knowledge of preoperative planning and postoperative assessment. The Vascular Center of Excellence has more than 8,000 outpatient visits per year and over 2,500 new referrals annually, giving trainees ample opportunity to experience patient care in the outpatient setting.
The weekly vascular conference series is the cornerstone of the formal education aspects of the program. The conference is composed of the topics outlined in the APDVS approved training curriculum. The majority of these topics are presented by the vascular faculty; fellows and residents will be required to present topics as well.
Journal Club occurs monthly and consists of journal articles selected by the faculty. Each month, two trainees will be assigned an article and will each present the purpose and methods of the study. A review of the results will follow, along with a discussion on the study, critique of its methods and results.
This meeting is held bi-monthly following the didactic conference. Trainees are assigned to present case synopses for which they were involved in patient care; they investigate and evaluate the care they have given to the patients, appraise and assimilate scientific evidence and use current literature to identify areas of improvement. Cases are presented to surgical residents, fellows, and attending staff.
Research Opportunities 
The vascular program is highly dedicated to academic research and provides its trainees with ample opportunity to develop a similar dedication to research. The vascular faculty has produced 600 peer-reviewed publications and we require vascular trainees to participate in at least two research projects for publication during the fellowship. Residents are required to participate in at least three. 
The vascular faculty also continuously conduct multiple industry-supported prospective and retrospective research trials as well as investigator-initiated trials. 
Additional Training Opportunities 
In addition to the didactic lecture circuit, each trainee will be offered multiple opportunities to attend outside conferences and training sessions. Most are industry-sponsored and include training on IVC filters, AV access techniques, and endovascular stent graft courses. Also, the senior trainees will be able to attend the Wesley Moore review course held each year in California.
Salary and Benefits 
CAMC offers a comprehensive salary and benefit package for residents and fellows.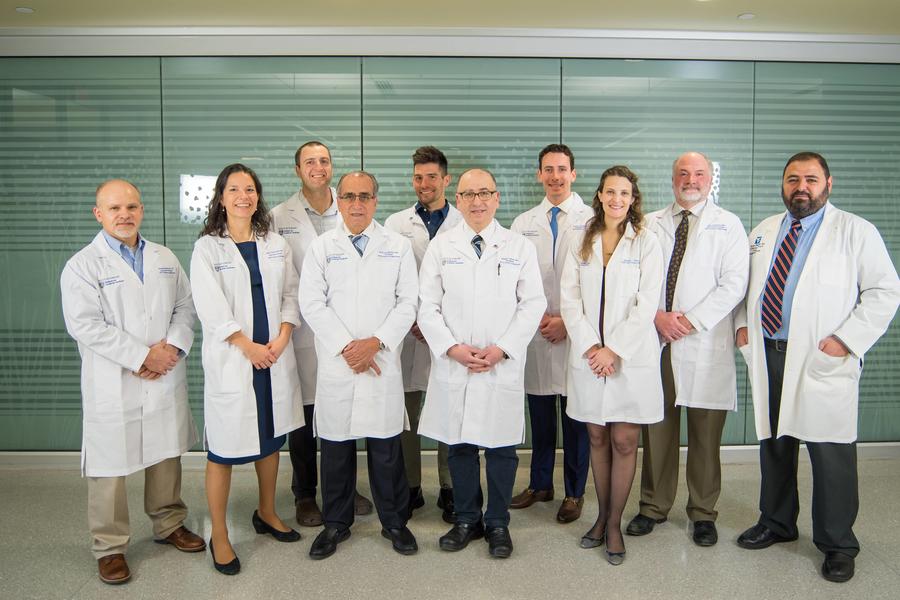 Our Faculty
Pictured L to R (front row): Dr. Stephen Hass, Dr. Amy Deipolyi, Dr. Ali AbuRahma (chief & program director), Dr. Meghan Davis
Pictured L to R (back row): Dr. Matthew Beasley, Dr. Elliot Adams, Dr. Zachary AbuRahma, Dr. John Campbell, Dr. Shadi Abu-Halimah
How to Apply
Learn more about our application process for the Vascular Surgery Residency and Fellowship Programs.
Explore Charleston and West Virginia
Charleston is a small city with a metropolitan culture, and is close to some of the best outdoor recreation in the country.
House Staff Handbook
House Staff Handbook for CAMC interns, residents and fellows.